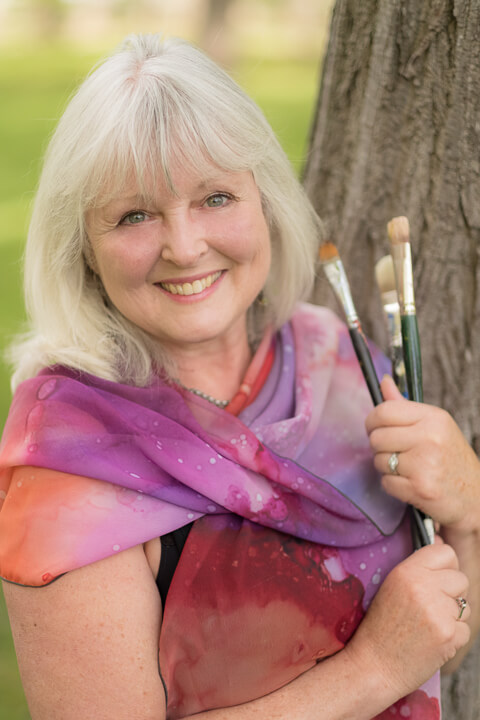 Linda Lovisa – Artist's Statement
I love the outdoors. My paintings are a visual journal of my adventures. They reflect the places I have been and the beauty I have seen. I am drawn by the light, colour, and movement in the subjects and scenes that I have chosen. I have been creating for as long as I can remember. My hope is that my art will inspire others to want to create as well.
– Linda Lovisa
Linda Lovisa – Bio
Kelowna artist Linda Lovisa paints Alla Prima (direct approach).  This type of painting keeps the colours fresh and vibrant while mixing directly on the canvas. Her genres include impressionism, symbolism, and abstraction. Although she works primarily in acrylic, she continues to explore a wide range of media including pastel, mixed media, and watercolour.
Linda's paintings have appeared in exhibits across Canada and the United States and can be found in private and public collections nationally and internationally. Linda has been presented a Gold Award and an Award of Excellence by The Federation of Canadian Artists.
Linda's creativity and beautiful artwork can also be found in two children's books that she has recently written and illustrated in watercolour. She is looking forward to sharing more stories in her series, "The Adventures of Gordon the Canada Goose".
After ten years of owning her own art gallery and displaying many local artists' creations, Linda has moved to a new chapter in her life.  She continues to offer in-person and virtual painting classes; is enjoying writing her books; and is painting commissioned pieces.