In-Person Art Classes, Painting Workshops, Demonstrations & Artist Talks with Linda Lovisa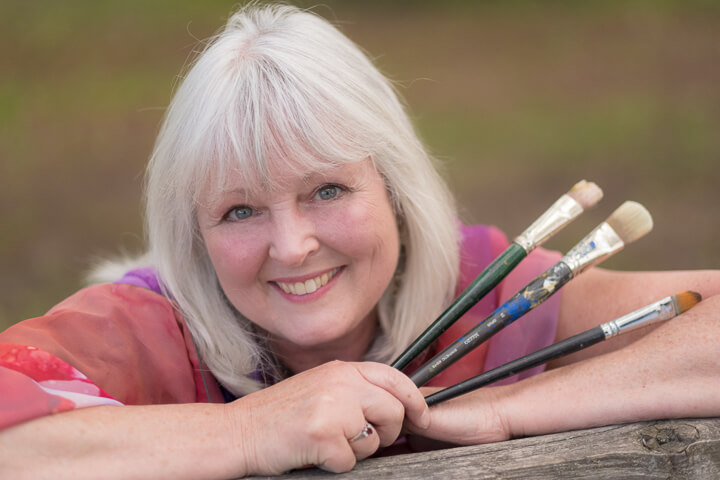 Introduction
Linda has a vast experience and is well-known for her Artist Talks, demonstrations, and workshops which she delivers upon request anywhere in Canada or the World.
She is known for her acrylics but also teaches watercolour and pastel. Landscapes, skies, and trees are her favourites to paint. Linda has explored a wide range of subjects in her years of experience and can lead you to a successful painting in various topics such as flowers, wildlife, and portraits. She can also demonstrate many different techniques such as double and triple loading of brushes, palette knife, why blocking in is so important, and the use of more paint!
Linda is well known for her sense of colour. Her direct approach to painting creates fresh vibrant colour on the canvas while using a limited primary palette.
From children to adults, Linda is able to help any level of artist!
She also organizes her own workshops under her company name Natural Transitions Art Studio.
---
Children's Acrylic Painting Workshop
Class Descripton
In this class, art instructor Linda Lovisa, lindalovisaartcanada.ca, teaches children how to mix colour and the basic elements of design. They will explore Group of Seven techniques using our local landscape. It is a wonderful time of year for exploring colour. Children will be asked to come with a 5×7 photo of a local landscape they would like to paint. They will render it in one of the Group of Seven's style. This is an interesting learning experience for the students. They are not copying the Group of Seven work only the style when they paint their painting. They also have the opportunity to learn from each other as every student will be working from their own reference material. This is an important part of the class. Learning how to interpret and edit their own subject. How do we find the colour that we want to use, which brush to use, how much paint should be on the brush, what is a tonal wash, why do we sketch it first? These are all questions and solutions discovered in this class. These classes are not one-day project classes. One class leads into the other. This is important to know before you register your child.
* All new pre-packaged supplies are provided for each child, No sharing, Covid Protocol in Place *
Ages
8 – Teens
Dates
October 23rd & 30th
November 6th & 13th
Time
10:00 – 11:30 AM
Location
Peachland Art Gallery, 5684 Beach Avenue
Price
$175 (tax included)
To Register, Contact:
Janet Hornseth / Coordinator   |  250.767.7422   |   peachlandarts.ca
---
Art on the Yacht
West Kelowna Art Class Workshop
Tuesday after school art class program at the West Kelowna Yacht Club.
* All supplies included *
To Register:
Please Contact Us for more information
---
Access To Linda's In-Person Art Classes & Services
Please contact us for information, requests and bookings for In-Person Art Classes, Artist Talks, Demonstrations and Workshops at your own facility.
In-person art classes are on pause during COVID-19 restrictions on public gatherings. Check back on Facebook to learn when in-person classes will be available!
Past Workshops, Talks And Demonstrations
This page is in the process of being updated. Past workshops, Artist talks and Demonstrations will be listed here. Thank you for your patience!
Workshop Gallery