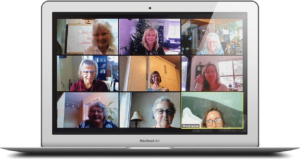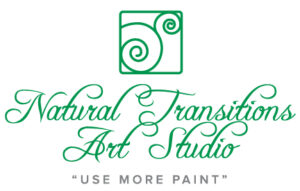 Zoom

Class ~ Meet Artists from other communities
---
Zoom Class – September 14, 21 and 28
September 14th – Mountains
This is a subject you could paint your entire life and not tire of painting them! It is back to geometry. Yes, all those angles you love to draw. Yes, rulers are allowed getting you started on the right path. Learn what is important. Where do you want the viewer to end up in your painting," Is there a passage? "Are you painting a landmark mountain?" For me, it is all about how the light hits the various parts of the mountain. If you spent an hour taking photos of all the different lighting that happens on just one section. Can you imagine how many references photos you would have!
September 21st – Still Life with Glass
So much is learned doing a still life painting. It will give you tools that will make you comfortable to handle any subject. It really teaches you to see light, shape and form. Not to mention composition, depth and perspective. All the elements of design are explored in a still life. In this class I will explore all of the above while giving you tips on how to paint glass.
September 28th – Fall Reflections
A walk in the woods or down your street enjoying the colours autumn has gifted us. What an incredible palette of colour we get to play with. You guess it, this class is about the colours of autumn. I will show you how to load your colours and how to stop before you over blend. Keeping it fresh and colours vibrant in the important places. How to create depth in the forest with so many colours. It could be a path in the woods, a back road, my favourite scenes. Search your references for that photo you took that says "PAINT ME"
See you soon on Zoom!
---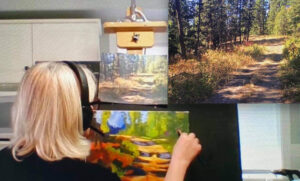 Tuesday Afternoons
12:30pm ~ 1pm Meet, Greet and Share
1pm ~ 2pm Demonstration, during the demonstration the chat box is available for questions and they are addressed during that time or afterwards.
2pm ~ 2:30pm discussion time, questions and extensions of the demonstration are addressed.
---
Details
Art classes with Linda Lovisa are followed by a video of the class and a written extension for your reference.
Cost $105.00