Born to Change
We are all naturally born to create. But somehow we define art, and creation as something only for those who are naturals or are born with talent.
Being naturally born to create, it's what you do with that energy as you grow: you can grow into it, or grow away from it. I see with many of my students that if you grow away from it, someday it will call you back. Perhaps you feel or felt that life is too busy to create (you know, the kids, working full time, never any time for yourself, and so on). There were a million reasons that there wasn't time and time trickled away.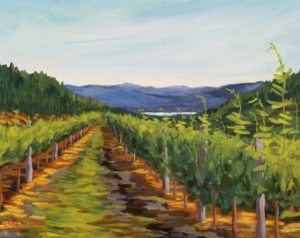 A day comes along that finds you searching for what has been missing.
You wake up and realize that it is your yearning to create. It is the arts.
There is a longing for creative expression in all of us. It could be any one of the many art forms available at your fingertips writing, music, dance, theatre, or the visual arts. In your search, you will discover a whole new world out there. All of your senses will be awakened. You'll notice colours that have been around you all your life! The music created by the wind gently blowing through the trees makes you pick up a pen to write a line or two. The sound of a certain guitar reminds you, I've always wanted to play.
The urge will come when you least expect it. There will be a day when you begin to explore how you'd like to express your creative self. It's never too late. There is an urgency to start your journey now. Leaving behind thoughts like, I have no talent, you must ask yourself if you have really searched and tried to create? It's your journey and your job to look and find where your talent lies. Enjoy the journey that the exploration brings. You will surprise yourself!
Maybe your path doesn't lead to theatre or music; it could be calligraphy or photography. Perhaps it's more than one discovery that leads you into illustration, writing and creating your own book!
Reflections: an Inspiration Journal
A new book is what I created. The title is Reflections: an Inspiration Journal. It's due out mid-September, 2012.
Over the years, experience with my own sketchbooks and journals found me doodling in both. My idea for the book was to produce a collection of favourite works and moments. The journal has explorations that foster creativity with prompts and inspirational thoughts. Each painting is followed with blank pages where the readers can create and develop their own working journal. Twenty of my paintings are inserted throughout the journal with my inspiration for that painting, techniques and prompts for you to explore. The book reflects the teaching in my art classes.
Reflections: an Inspiration Journal is designed to inspire creativity in a number of ways: creative writing, collage, photographs, sketching with ink, pencil, charcoal or watercolours. A lot of thought was put into the construction of the book. Its size, 8"x 8", and spring binding allows this journal to function as a portable workbook. It's not dated, so you can work through it at your own pace.
Cross Pollinating Creativity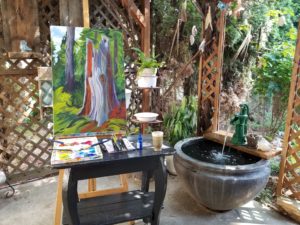 The wonderful thing that happens in the arts is that you discover one area and it leads into more and more. The arts weave one into the other. It's magical. There are areas to grow when you thought you've done it all. What a feeling! Invigorating! Creation brings a renewed excitement to everyday life. It's something to look forward to and lose yourself in. The creative way to wellness is guilt free. You deserve to treat your brain, your body, your inner self and the soul in a respectful way, remembering that we are all born with talent and to be creators. It's up to you to find your way! Start by putting art into your daily routine, like having your morning coffee or walking the dog.
New Moon Art Gallery
Linda Lovisa owns New Moon Gallery and Natural Transitions Art Studio in West Kelowna, British Columbia. She is a visual artist who works full-time painting and teaching in her studio. Linda promotes local area artists in her gallery while sharing her talents in various mediums, including acrylics, watercolours and pastels. Classes are offered all year round in the studio. Please stop by the gallery for information or check her web site at www.newmoonartgallerykelowna.com. Reflections: An Inspirational Journal will be available online for pre-sales and at the New Moon Gallery midSeptember. You can reserve your copy at the Gallery or through Linda's website. Linda is pleased to be participating in ArtWalk 2012. Please stop by to say hello!