Have you been thinking of taking an art class? You're no doubt wondering: 'Where do I start?'. Do I have to know how to draw before I try to paint? I can't even draw a stick person! I can't draw a straight line! These are questions and quotes I have heard often. The answer to these questions is, no, you do not need to know how to draw before you try to paint. I don't draw stick men very often either, so I think you will do just fine. Straight lines can be drawn with a ruler. There is no reason why you should put up these roadblocks if you really want to learn an art form. Wanting to learn is the very first step as it opens your mind to the adventure you are about to begin.
Where do I start? The first step is to decide which medium appeals to you: acrylic, oil, or watercolour paint, or drawing with pen and ink, pastels, mixed media, pencil, charcoal, and so on. Then you put it into action. Find out if there is an instructor nearby. These days it is much easier with the many online courses offered. If you're hoping to take one of my online art classes, you can find out more about them here. Then you stop by your local art supply store. It is often thought that the supplies will cost more there, so you might try going to a big box store for supplies instead. However, here is what happens when you start there: First, you will get no help from staff because they do not know how to use the supplies they sell. Second, you will pay more because you will have to go shopping again for the better supplies that you actually need. In this article, I will be giving you some information on painting with acrylics.
I can understand why an art supply store can be overwhelming. I was 18 when I first went shopping for my own paint. I lived in a remote community when I was younger and my grandfather used to pick up my supplies for me. The very first thought that came to my mind was, 'why did my grandfather only buy me 5 colours?' They were Ultramarine blue, Cadmium Red medium, Cadmium Yellow medium, Titanium White, and Ivory Black! There were so many more colours available in the store! The display was beautiful. It was so inspiring to see all those colours. All the brushes looked perfect, and I hadn't known that there were so many choices. 'How do I decide?' I spoke to some of the knowledgeable staff and they helped me out. I asked my grandfather why he had chosen only those colours when he bought me supplies. He responded, "I asked the guy in the art supply store and he said that this is all she needs to practise mixing colour if she wants to be a real artist." That was the best advice he could have given my grandfather to get me started. What I have learned about mixing colour has given me an advantage ever since. I began to explore all of the colours, and that experience has helped me become the artist and instructor I am today. I could not stop exploring. I was completely hooked on colour. 
Tell them you are a beginner. The art supply store staff will get you started on the right track. If you are taking an art class, get the supplies that the instructor recommends. They know those supplies well and are recommending them for a reason. Your first reaction when you look at the pricing will perhaps scare you. Make sure you ask the instructor if there is a student grade recommendation that will give you similar results. Most instructors will be able to guide you in the right direction for a comparable brand. If not, the staff at the art store can help you out. I do not recommend you go with the lowest grade of supplies. You will be frustrated as the paint and the surface will prevent you from achieving the desired results. You do not need that frustration when you are starting out. There are so many things that you are trying to learn that you don't want your supplies to cause you to adapt to a different technique than what is being taught. If you decide on a student grade, go for supplies in a mid-price range. You will be happy you did. Eventually, you will want to purchase better-quality paint.
Once you are all set to start, now comes the big question. What do I use as my first subject to paint? Use one of your own photos. Paint something you are familiar with. It is more fun to paint something you know. Landscapes are a great starting point as they are more forgiving. You will also learn all the elements of design that you can carry forward into other works.
Now that you're well on your way to creating your first painting and itching to book your first art class, you'll need to check that you have all the right materials to get started.
Here Is A List Of The Five Art Class Tool Essentials For Painting With Acrylics:
#1. Paint
Start with a limited palette:
Ultramarine Blue
Cadmium Red
Cadmium Yellow 
Titanium White
You do not need black; you can mix your own. In addition to the colours above, I have these reds, blues, and yellows on my palette:
Cadmium red light, Cadmium red deep, Pyrrole crimson

Cobalt blue, Cerulean blue, Manganese blue

Cadmium yellow light, Yellow Orange Azo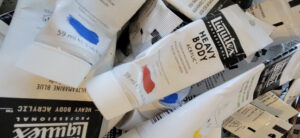 I like Liquitex® HEAVY BODY® Acrylic paint for its flexibility in the various styles I work in. Liquitex® has a student grade paint called, 'Basics 101'.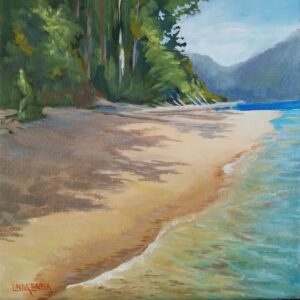 Slocan Lake Beach ~ Linda Lovisa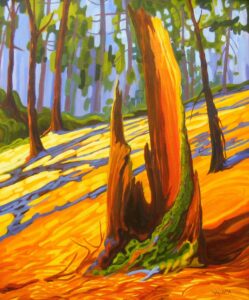 Drought Mountain ~ Linda Lovisa
Both of these paintings were painted using the palette of colours mentioned earlier.
Mixing colours can be so much fun!
#2. Brushes
My favourite brushes are a ¾" flat synthetic medium stiffness and a ½" flat synthetic – but I have several sizes. Round brushes in various sizes; 3, 5, 6, 8, 10 (different manufacturers number their brushes differently). Your choice depends on your touch, soft to medium if you have a light touch. If you have a heavier touch, perhaps a bristle brush is best suited for you. You will find that you will need all kinds of different brushes depending on what you are trying to accomplish. You will find a favourite brush. How do you know it is your favourite? It is the one you search for every time you paint. When you do, buy several of the same size and try a few different brands in that size. There's nothing worse than needing to replace your favourite brush and you can't find one!                                      
#3. Palette
The Matheson Sta-Wet® palette is the best thing you will ever purchase for painting with acrylics. It will save you a lot of money. No more throwing paint away! The palettes come in different sizes. I suggest purchasing a larger one. It is nice to have room for your colours. 

#4. Sketch Pad And Pencil
It is very handy to have a sketch pad and pencil to write notes about different colour combinations, practice your drawing skills, sketch your subject, test colour swatches, scribble and doodle warmups!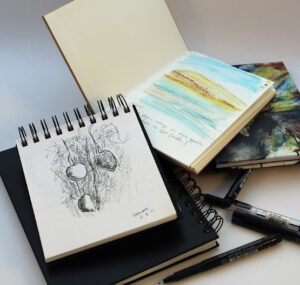 #5. Canvas, Water Container And Rag
Please buy a good student grade canvas even if you are just starting out. Otherwise, you will be sorry you didn't when that paint you apply just keeps disappearing into the weave. Your art supply store will have some options for you. Do not buy a huge canvas! No larger than 12" x 16" when you begin to paint, as larger sizes can be overwhelming. Get some experience first! You can then tackle that big one you want for the wall behind your bed.                          
I hope this information helps you have many wonderful painting experiences and helps you feel prepared for your first art class. If you're curious about taking an art class with me, click here for more information about my online art classes.
written by Linda Lovisa